Counting the five days I hunted in Montana in September and the four days I spent with Scott Chaffee running and scouting dogs for the Grand National Grouse Championship (including scouting the winner Moss Meadow Traveler), yesterday was the 50th day I've spent chasing birds around this hunting season. My goal was to get my feet wet with the guiding end of things and do a couple of hunts. I guided 22 of those 50 days and still have more on the books for November and into December if the weather holds. It's been a great season with lots of birds moved, some great dog work, and even some birds in the bag.
Sage Grouse in Montana
Wild Apple Brandy and a limit of woodcock I shot for her.
Good Hunting with Tim and Alan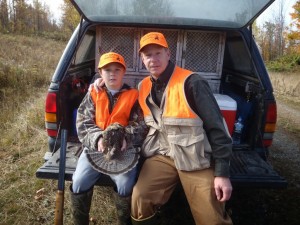 DJ's first grouse.
This time of the season really requires a lot of effort to rack up any numbers. I haven't seen a woodcock since last Tuesday (11/12) and the grouse seemed to be deeper in to the covers and definitely hard to get good shots at as they are running and flushing way out ahead of the dogs. Although we got some great work out of Sam on Sunday where she pinned two groups of three birds each. Tim and Frank got one on the first point and two on her second to give her day honors. Monday I brought the old man (Wild Apple Jack) out and he showed he still knows how to handle late season grouse. He worked one running bird for over 100 yards before Frank was able to cut it off and get it in the air. Unfortunately it's still in the gene pool. Sam shined again on Monday as we put 9 grouse in the air as she pointed a few and a number flushed wild in an old orchard. It's 29 and snowing here this morning seems like a good day to take a day off and get caught up on a few errands.
Jack and Brandy taking the day off as well.